All About Textile Media
The properties of textile media open up new possibilities.
The Properties and Applications of Textile Media
Advantages of Textile Media
Advertising media come in many different forms, including cloth, paper, signage, and film. Textile media in particular, in the form of banners and flags, offer several advantages.
First, they're lightweight and foldable, so they reduce transport costs and don't take up much storage space. And they're relatively durable, being more resistant to the elements than, say, something made of paper.
Silkscreen and inkjet are the typical printing methods used on textile media. Both can be used with any material or shape, and they yield beautiful bright colors that make a striking impression. For that reason our textile media products are used for a wide variety of purposes — including event advertising, exhibits, and merchandise — in commerce, industry, the arts, and many other fields.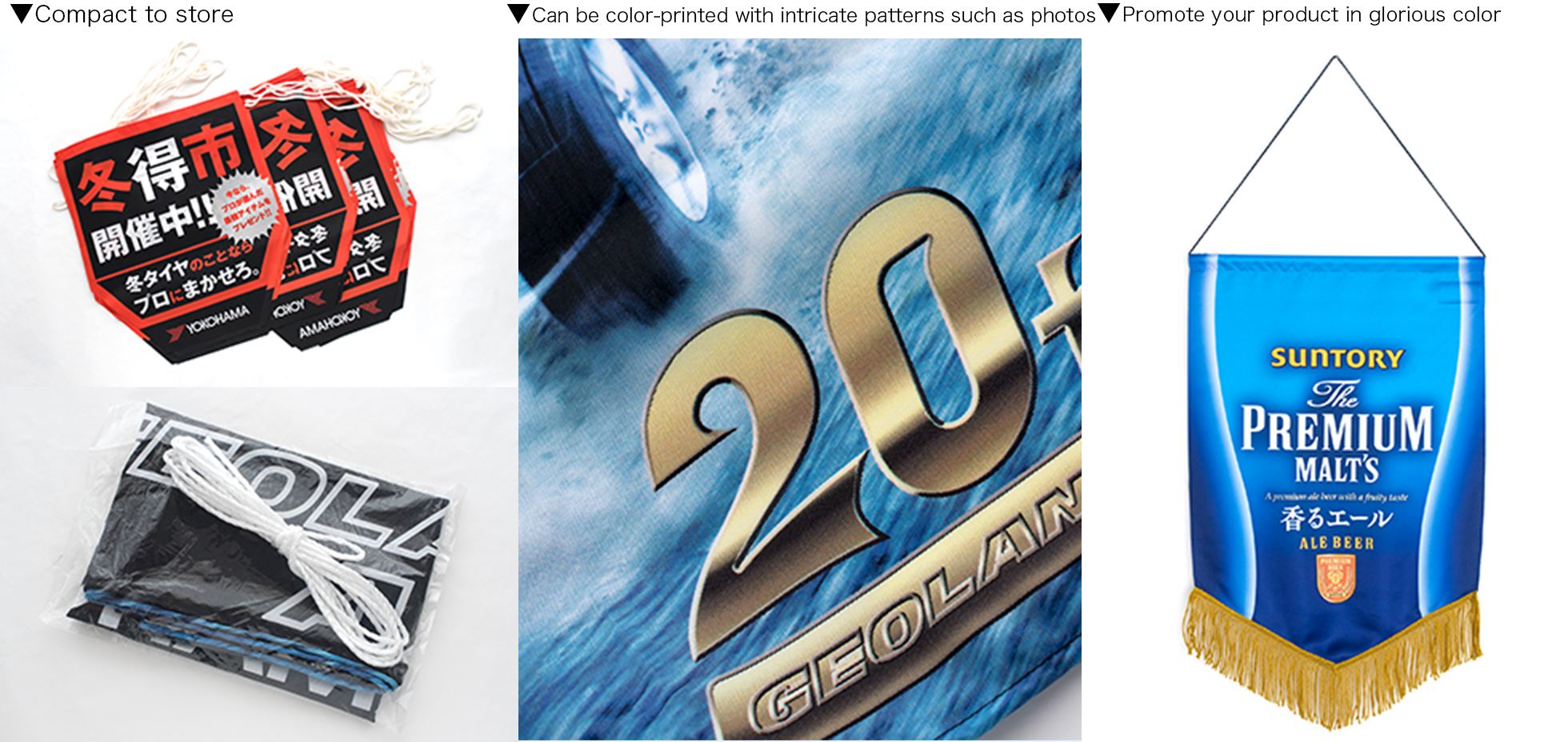 Textile Media in Your Corporate Identity Strategy
Using fabric gives your brand and products a unified look, plus a dash of class.
It ensures your brand logo and corporate colors look consistent across promotional materials.
Examples: street flags, protective sheeting on construction sites, etc.
How Printing Methods Differ
Here are the characteristics of each method of printing, though they may not apply under all conditions.
We will recommend the best method for your particular needs once you tell us what you require and for what purposes.
Silkscreen
Inkjet
Dyeing
Printer
Production

Separate plates made for each color used
Machine-printed + by hand
Pigment inks

No platemaking required
Entirely machine-printed directly from data (like a large version of your home printer)
Pigment inks

Separate plates made for each color used
Hand-dyed, requiring a craftsman's touch
Can also be used for printing on cotton or silk
Dye inks

Advantages

Quick and accurate for printing in bulk
Excellent color
Can reproduce a wide palette of hues, and spot colors come out beautifully

Suitable for small print runs with short lead times
Details come out beautifully
Can handle variable print runs, e.g. custom items and personalized items

Radiates class
Highly durable

Properties

Perfect for both outdoors and indoors
Not washable

Perfect for both outdoors and indoors
Not washable

Perfect for both outdoors and indoors
Can be washed or dry-cleaned

Best suited to

Large print runs (several thousand or more)
Achieving sharp, saturated colors
Corporate campaign banners in either free-standing or horizontal format

Detailed color reproduction of photos
Individual store banners in either free-standing or horizontal format

Anything to be displayed in a prominent location: the national flag, your company flag, a banner or curtain for a shrine or temple, etc.
Here is an example of what we can recommend.
Sample idea
You can use inkjet and silkscreen printing for different purposes with the same design.
Because inkjet and silkscreen are different methods of printing, the same design will come out differently.
But what you can do, for example, is check the design on an inkjet-printed version at the pre-release stage, and then silkscreen the finalized version for distribution to locations nationwide. The direct digital color proof can then be used as is as the provisional final version, which is more efficient.
If you have any other special circumstances you need advice on, just talk to us.

Besides printing methods, we can also offer advice on materials depending on your goals and circumstances, so please feel free to contact us.