Why Clients Choose Us
Consistency and dependability.
That's why you can rest easy leaving the job to us.

Quality × consistency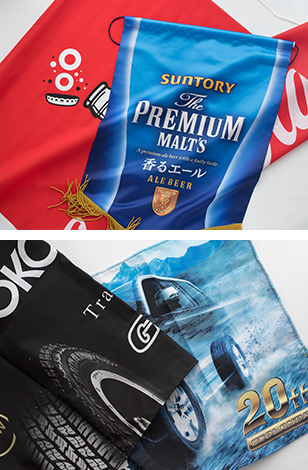 Customer testimonial"We always feel confident delivering their products."
SAPTI brings you products of the highest quality and consistency. Project coordinators and other clients rate them highly because they never need to be reprinted and they result in fewer complaints.
Quality is unaffected by the size of the run, the time of year, or the climate. Even with a large print run numbering in the thousands or tens of thousands, every last piece is meticulously done, no matter what the job.
Only SAPTI can offer that level of quality, because every one of our people is committed to our twin policies: craftsmanship with integrity and service with integrity.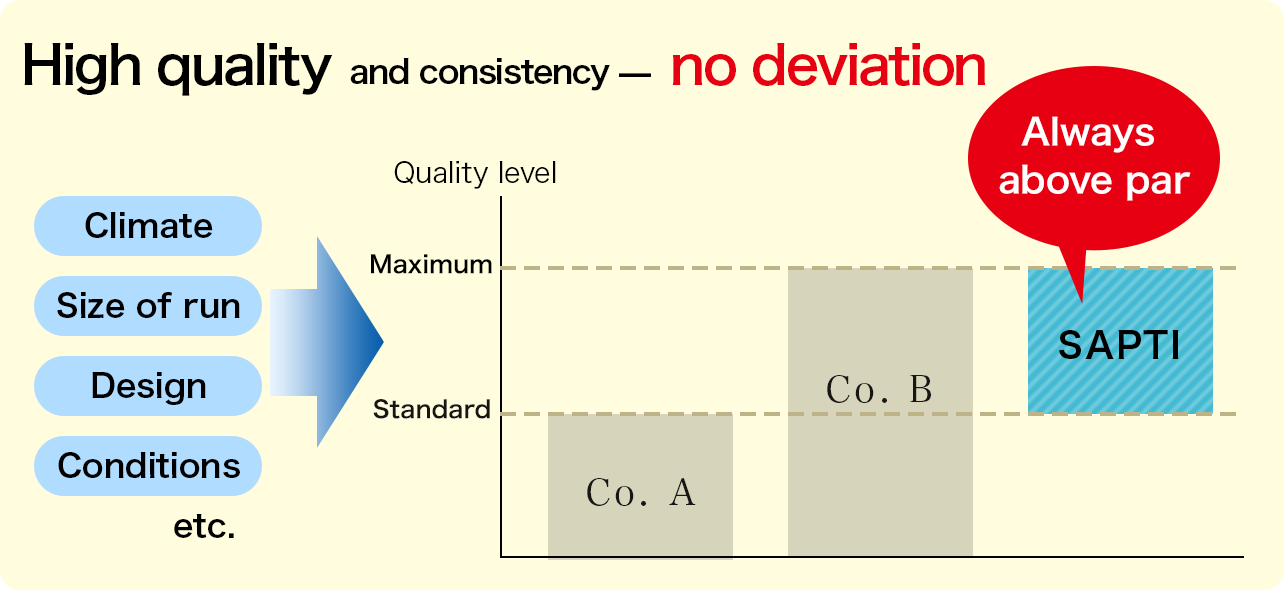 Solutions backed up by decades of experience and success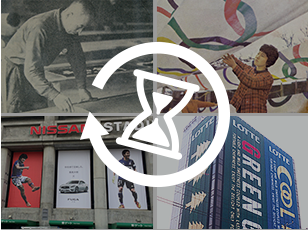 Customer testimonial "They've helped us expand our range of solutions to client firms."
At SAPTI high quality and excellent lead times are a given. And with more than a century's experience, we've come up with designs and colors unavailable in existing products.
We have many highly experienced people on staff, and they mentor junior colleagues. By drawing on our past experience and success, we're able to offer comprehensive solutions that also embrace materials and printing methods, site of installation, and finishing techniques.
Moreover, SAPTI offers extras that no other company does, such as individual store delivery, numbering, and name personalization. We put ourselves in your shoes when recommending a solution.

Flexible because the process is integrated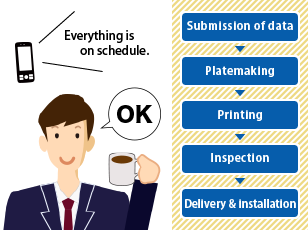 Customer testimonial"They're quick on their toes in an emergency, which is a lifesaver."
"Even when you can't let a design out of the office, as with a new product, you know you can trust them."
Because our products are made and centrally managed in house, the entire production process is seamless, from preliminary arrangements through submission of data, printing, and delivery.
One advantage of this integrated process is the rapidity with which we can respond if anything goes awry. And you never have to worry about sensitive data getting into the wrong hands.
Our experienced staff are always there to support you, whether you have technical issue to resolve or need to make production control adjustments. That's why we're trusted by first-time and repeat customers alike.
If you require the same item each year or on a regular basis, all you need to tell us is "The same as usual," and we'll make it for you. That's handy too.

Installation support anywhere in Japan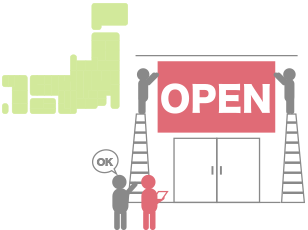 Customer testimonial"You can rest assured they'll even help you arrange installation."
SAPTI doesn't just handle production; it also looks after installation work on your behalf. We're conscientious about accommodating your requests, such as pre-inspecting the site of installation.
No matter how large or small the job, we're ready to cater to your requirements. We will even be there during installation if you wish.
Our network enables us to arrange installation anywhere in Japan, however far away. So you can feel secure with us.

Attentive after-sales support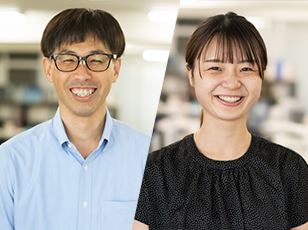 Customer testimonial"They're a dependable long-term partner."
Once we deliver the product, we help you maintain it, because we know how busy you are. If you need to reprint a banner that's faded or repair one that has come loose or is broken, just talk to us. We can also advise on removing banners before a typhoon or heavy storm to prevent damage, and arrange a professional service provider on your behalf. That's another reason to choose us as your partner.